Last revised: August 20, 2016
---
2013 Memorial Dedication

Seven of our Air Force brothers died in a tragic barracks fire at
an A.F.I.T. Language School Syracuse University, NY. and 19
others suffered serious injuries on January 6, 1959.

1. BROWNING, Frederick M. - Enfield, NC
2. DUGGAN, Edward E. - Manning, SC
3. GASPARRI, Michael - Yonkers, NY
4. MARLOW, Billy D. - Converse, TX
5. STOLL, Joseph E. Jr. - Norwalk, OH
6. TIDWELL, Remus A. - Oneonta, AL
7. MERFELD, Thomas P. - LaCrosse, WI
Memorial to our Seven Lost Brothers

New benches now installed at the Skytop Memorial.
(...they had not arrived in time to be in place for the dedication ceremony) - before the 1st Syracuse snowstorm...
(Photo courtesy of Larry Tart)
---
---
(Building M-7 -- 19 Injured/Hospitalized:)
1. WOODWARD, William C.


2.

PRESLEY, Ray - (TN)
3. MUHLBAUER, Robert F. - (NY)


4.

McKINNEY, Donald G. - (NY)
5. MALONEY, Martin E. Jr.

(d.)


6. KYRITZ, Ronald J.
7. KOWALCZYK, James - (MA)
8. KELLER, John H.

(d.)

- (FL)
9. INGALLS, Victor B.

(d.)

- (NY)
10. HELMS, Charles M.

(d.)

11. HACKER, Joseph D.

(d.)


12. FRANKLIN, Ralph K. Jr.


13.

FANDRICK, Ronald W. - (ND)
14. DOWLING, Peter G.

(d.)

- (MI)


15.

DOWLING, Donald T. - (NY)


16.

DONALDSON, John C. - (PA)
17. CONLEY, Alan R.

(d.)

- (MI)
18. CARIGNAN, Hubert W.

(d.)

- (MA)
19. BALLIET, Edward F. - (PA)

(d.) = deceased
(Attended Memorial Dedication - October 4, 2013)
| | | | | |
| --- | --- | --- | --- | --- |
| Donaldson | Dowling | Fandrick | McKinney | Presley |
---
Cadets from the Syracuse University ROTC Program
Place a wreath by the Memorial
---
Skytop Memorial Dedication
Syracuse University - 04 October 2013
---

Eric Spina, Vice Chancellor and Provost at Syracuse University, offers welcome to those gathered at Skytop to honor seven airmen killed in a 1959 fire. Behind Spina: Arlen Trapp, Air Force retiree and historian; Tom Mathews, whose father Thomas Merfeld died in the fire, and Ray Presley, who escaped from the burning barracks.
---
---
Syracuse University ROTC Cadets
Presentation of colors by Syracuse University ROTC Cadets
---
| | | |
| --- | --- | --- |
| LARRY TART | RAY PRESLEY | Dr. ERIC SPINA |
| THOMAS MATHEWS | ARLEN TRAPP | Chaplain Cecil Richardson |

Ray and Sandra Presley
---
---

RAY PRESLEY, RON FANDRICK, FRANK BOEHM



CHRIS DONALDSON
DON DOWLING


TOM EMDY, BILL LAPOINT
RON FANDRICK, FRANK BOEHM


RON FANDRICK, DON DOWLING
DON McKINNEY
---
Brief History
Starting in 1951 and continuing for two decades, Syracuse University hosted a language training program for the U.S. Air Force Institute of Technology (AFIT), teaching hundreds of enlisted airmen Russian or an East European Slavic language in intensive six- to 12-month courses. It operated from 17 aluminum-clad prefabricated wood buildings (M-0 through M-16) along what is now Lambreth Lane on South Campus. Eight buildings were used as barracks housing for enlisted airmen assigned to AFIT Detachment One at Skytop.

During the early morning hours of Jan. 6, 1959, fire broke out in barracks M-7, which housed 43 airmen. The fire spread through the wood structure quickly. Seven airmen died in the fire and 19 were hospitalized.

In 2012, on behalf of the Prop Wash Gang, Larry Tart approached the University's leadership asking if they would consider creating a permanent memorial to those who were lost. Syracuse University Chancellor Nancy Cantor quickly agreed.

"Although this tragic event occurred more than 50 years ago, when we learned that there had not yet been a memorial on campus to recognize those who were lost and injured, Chancellor Cantor absolutely wanted to work with the Prop Wash Gang to make it a reality," said SU's Senior Vice President for Public Affairs, Kevin Quinn.

"We look forward to welcoming back to campus some of our veteran airmen and recognizing and remembering those killed that morning."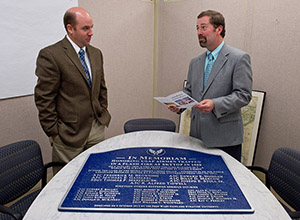 Joe Alfieri, left, and Eric Beattie look over the plaque honoring the airmen injured and lost during the catastrophic barracks fire more than 50 years ago on the University's South Campus.
Joe Alfieri is a senior project manager and Eric Beattie is the director of the Syracuse University Office of Campus Planning, Design, and Construction.
A task force worked with Larry Tart to design and secure a location for the permanent memorial. The plaque is engraved with the names of the seven airmen who died and the 19 other airmen who suffered injuries. It is secured to a pedestal on Skytop Plaza, overlooking the area where the barracks once stood.

---
The Prop Wash Gang in conjunction with Syracuse University is responsible for the
creation of this memorial honoring our Air Force brothers who perished in the fire
at Skytop on 06 January 1959.
---
MEMORIAL PROJECT CONSTRUCTION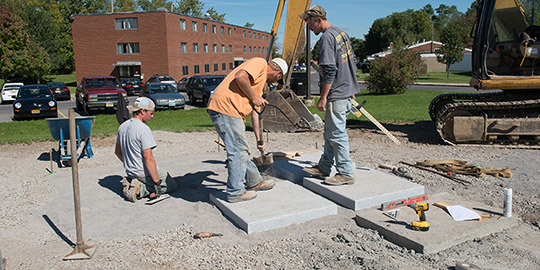 Workers prepare a bed of granite pavers to support the new memorial honoring those lost and injured in a barracks fire in Jan. 1959 on the Syracuse University campus. The seven tiles in the base will represent the seven airmen who died in the fire. The memorial is located on Lambreth Lane, South Campus.
---
NOTE: Please send any corrections or additions to Ron Fandrick.

Last revised: August 20, 2016
Copyright © 2013 by RWF2000 Internet Consulting